The Pasadena Pet Motel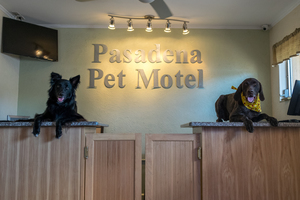 STK9 Training Company is very fortunate to be a part of the Pasadena Pet Motel family. All of our students enrolled in our dog training programs train, play, and board at this facility. This means that our students have at any point 4 to 8 trainers and kennel technicians with them. Each member of the Pasadena Pet Motel staff must have at least 5 years of kennel technician experience. They also have kennel technicians that have veterinarian technician experience as well on staff. The Pasadena Pet Motel staff implements safe and controlled play groups with our students. All playgroups are supervised, and divided by play style and temperament. The Pasadena Pet Motel senior staff continues to go to seminars and educational events regarding the safety of playgroups and how to improve them.
Since our training is done through a boarding facility we are subject to random inspections through Animal Control. The Pasadena Pet Motel and STK9 Training Company have passed their random kennel inspection by Animal Control with the highest rating each time around. With all the positive stimulation our students receive, they sleep very well at night! The Pasadena Pet Motel does have 24/7 security cameras and alarm system on site. So rest assured our students are in safe and knowledgeable hands! After a dog graduates a dog-training program, we always recommend The Pasadena Pet Motel for doggie daycare and boarding.