Why Board-and-Train?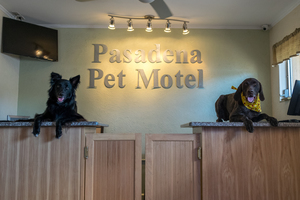 All of STK9 Training Company's board-and-train dog training programs are done at the Pasadena Pet Motel. The use of this facility is very beneficial for the dogs as it allows us to expose them to many different environments, people and dogs. Boarding your dog while training produces the best product because it allows us to carefully plan and control every aspect of your dog's day. We are able to introduce variables at our pace and can ensure that everything that your dog encounters has a positive effect on his/her dog training program. Using a board-and-train facility allows us to modify your dog's behavior in a slow and safe manner.
Many behavior problems are rooted in a lack of socialization and/or exercise. Our board-and-train dogs are able to take advantage of the Pasadena Pet Motel's Doggy Day Care program. This allows your dog to develop play skills, socialize and burn their extra energy. We have found that dogs who are allowed some time "off" to play with their own kind are happier and more eager to learn.